As famous as BB Creams have become and loved, there are also a number of those who doesn't use BB Creams because it is packed with tons of silicones.
So why the hate for silicones? Afterall the 'smooth velvety' feeling you feel on your skin whenever you apply your creams/bb creams/foundations/serums are all due to Silicones. They make products feel smooth, but evaporate without leaving a greasy residue unlike petrolatum. Also, Silicones are very non-reactive – meaning very little chance of causing irritation therefore making it perfect for people with sensitive skin. It creates a barrier on the skin against pollution, etc – but at the same time – the skin isn't able to 'breathe' and it makes the skin congested.
However, recently a Korean company called IsoI (Koreans have this thing for making weird peculiar English abbreviations ) and guess what it stands for? I'm SO Intelligent = ISOI.
And introducing the world's first ever Silicone-free BB Cream. The ISOI's Bulgarian Rose White Recovery BB Cream.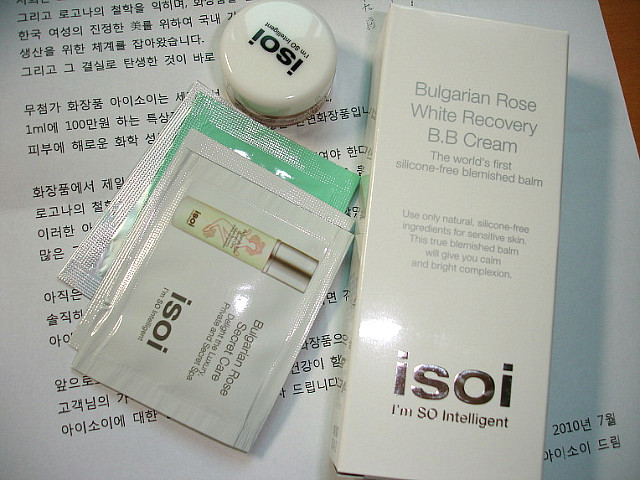 Notice that the color of this BB Cream isn't the conventional color of most BB Creams :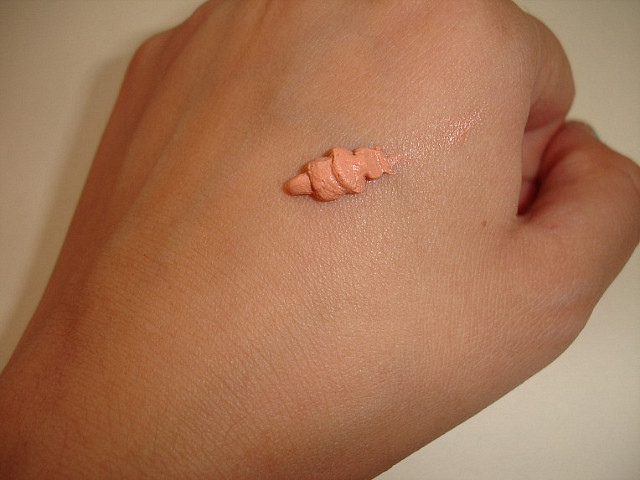 The main ingredient is of course Bulgarian Rose Oil distilled from roses in the Bulgarian Rose Valley. It is an expensive ingredient because to make 1ml of the oil, 3000 roses are needed.
The BB Cream claims to be paraben-free, chemical-free, silicones-free, fragrance-free.
Currently there is no way to get hold of this BB Cream, i can't even find it on Gmarket.  If anyone knows a way, please alert me. I would love to do a review for everyone.
Also another product which also claims to be Silicone-free is TheOrangeCo's Ecobeau BB Cream Plus. (Click on link to read it's description) :
Ingredients : Water, Propylene Glycol, Titanium Dioxide, Ethylhexyl Methoxycinnamate, sopropyl Palmitate, Talc, Cetyl Ethylhexanoate, Caprylic/Capric Triglyceride, Cetyl PEG/PPG-10/1 Dimethicone, Ethylhexyl Salicylate, Diisostearyl Maleate, Mangifera Indica (Mango) Seed Butter, Polyglyceryl-3 Diisostearate, Dimethicone, Dictamus dasycarpus turcz Extract, Houttuynia cordata thrunberg Extract, Gingko, biloba leaf Extract, Sesame seed  Extract, Padina pavonica thallus(Brown Algae) Extract, Artemisia vulgaris(Mugwort) Extract, Rosemary(Herb) Extract, Aloe Leaf extract, Kelp extract, Morus Alba Root Extract, Phaselous Radistus Seed Extract.Grycylrrhiza Glaba Root Extract, Solanum Dulcamara Stem Extract, Agaricus Bisporus mushroom Extract, Rhododendron brachycarpum Extract, Saxifraga stolonifera Extract, Magnesium Sulfate, Beeswax, Microcrystalline Wax, Sorbitan Sesquioleate, Polymethyl Methacrylate, Disteardimonium Hectorite, Iron Oxides (CI 77492), Aluminum Hydroxide, Dipentaerythrityl Hexahydroxystearate/ Hexastearate/Hexarosinate, Iron Oxides (CI 77491), Iron Oxides (CI 77499), Triethoxycaprylylsilane, Zinc Stearate, Bisabolol, Simmondsia Chinensis (Jojoba) Seed Oil, Tocopheryl Acetate, Allantoin, Panthenol, Ultramarines (CI 77007), Zanthoxylum Piperitum Fruit Extract, Pulsatilla Koreana Extract, Usnea Barbata(Lichen) Extract, Natural Fragrance
You can find more information about this at http://www.theorangeco.com/store/BB-Cream-Makeup-cosmetic/Whitening-Anti-Aging-BB-Cream-Matt
Dimethicone is silicone oil. And the people at The Orange Co didn't even noticed this until Hope In A Blog pointed it out to them in an email (and we even ordered to test it but cancelled it later on)  and they took down the 'World's First BB Cream Without Silicones' tagline on their website. So i say they should send Hope In A Blog some samples for free to thank us !
Anyway updated news : Ecobeau replied me and said
Thank you for email and highlighting the ingredient. We run through the ingredient list and noted Dimethicone, it is a derivative of silicone. Ecobeau lab in Korea is having long holiday now, we are awaiting for their advice on this. (we have to check which is the print error). In the mean time, to be safe, we have removed the part on silicone-free (till they revert to us).

We apologise for the error. Ecobeau is the brainchild of Prof Choi fr Kwangwoon Univ. We trust his efforts in bringing us quality pdts in most natural way.

We have received reply from Korean lab. Yes, the new BB plus (2nd version) has added 0.3% dimethicone in order to eliminate white turbity on skin. (due to customers' feedback on spreading). We have removed the 'silicone-free' on website.

Our sincere apologies on the error. At this juncture, will like to know your preference. Should we refund you the amt paid or u wish to proceed with the purchase. Look forward to hearing from u.
So obviously we cancelled the order, but hopefully they will be kind enough to send us a sample to see how this 3% dimethicone BB Cream compares to the rest.
The Orange Co has responded and they did indeed offer a silicone free BB but recently changed it due to customer feedback because it was rather challenging for customers to spread on their skin. Thus a 0,3% dimethicone  was added to rectify this problem.
The Orange Co was kind enough to offer Hope In A Blog a sample of the BB Cream, so once we receive it, we will write a full up review on the BB Cream. Stay tuned !